Peppermint Cedarwood Beard Balm 50ml/1.7fl.oz
Beard Balm
/ 50ml/1.7fl.oz
/ 1.7 Fl oz
Cooling and Nourishing Beard Balm for the Educated Man.

Defines shape. Adds Structure. Eliminates flakes, dryness and itching
Targeted Solutions For
Thinning Beards
Longer Beards
Reactive Skin
Bushy Beards
Dull skin and facial hair
BENEFITS
Stimulates, smoothes and shapes
THE BRASS TACKS
24 hours of moisture
100% Certified Organic
non-comedogenic
hand-crafted in small batches for freshness
Product Description
Cooling and Nourishing Beard Balm for the Educated Man.

Defines shape. Adds Structure. Eliminates flakes, dryness and itching
Targeted Solutions For
Thinning Beards
Longer Beards
Reactive Skin
Bushy Beards
Dull skin and facial hair
BENEFITS
Stimulates, smoothes and shapes
THE BRASS TACKS
24 hours of moisture
100% Certified Organic
non-comedogenic
hand-crafted in small batches for freshness
Product Specs
Be the Boss of your Beard.
Use this balm to tame and train even the most rebellious Beard.
CONTROLS- Provides comfortable hold, giving weight to rogue whiskers.
PROTECT AND RECOVER- Seals hair cuticle and replenishes lost oils.
NOURISHES- Rich in Vitamin D.
BOOSTS CIRCULATION- Peppermint and Cedarwood essential oils stimulate blood flow, supporting healthy hair growth.
NATURAL ASTRINGENT- Cedarwood essential oil tightens pores and balances oil production.
Key Organic Ingredients
Butyrospermum Parkii(Shea Butter) Fruit*,
Prunus Amygdalus Dulcis (Sweet Almond) Oil*,
Cera Alba (Beeswax)*,
Mentha Piperita(Peppermint) Oil*,
Cedrus Atlantica(Cedarwood) Bark Oil*
*Certified Organic
How To Use
1. Using the back of a fingernail, deposit a small amount of product into the palm of your hand.
2. Warm the balm by rubbing your hands together until the product is soft and evenly distributed.
3. Starting at the neck and working upwards toward the jaw, massage the softened balm into the skin underneath. Apply through to the ends of the beard. Continue by "raking" the remaining product through the beard with the fingertips, using downwards strokes.
4. Finish off with our Executive Boar Bristle Brush, to remove dead skin cells and encourage even product distribution.
5. Further shaping may be completed with our Cellulose Acetate Luxury Comb.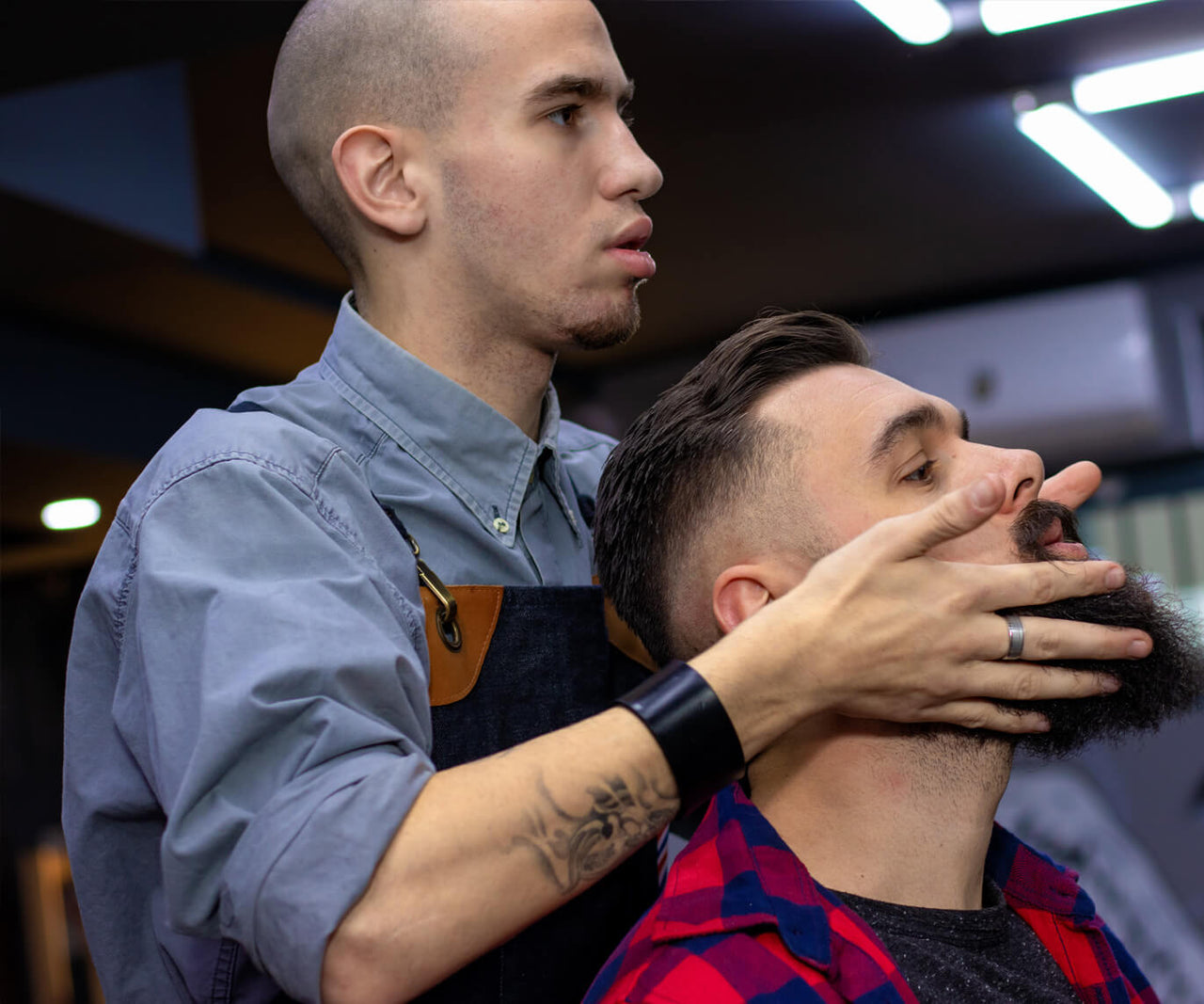 This product is frequently paired with,